Michael Blackburn's ART ZERO
---
CHIPS WITH HITLER - 6 METAFICTIONS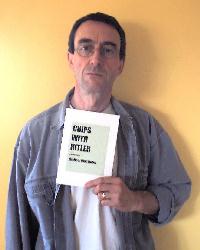 Guilty Author With Dummy

This 8-page A5-size pamphlet contains six Metafictions from the ongoing series posted on Art Zero. The edition is severely limited to 10 copies, each of which is numbered, initialled and dated by the author/artist.

Further info for the interested: in accordance with The Three Constraints of Art Zero, the pamphlet is constructed out of materials already available to the artist. The covers are unused over-runs from a Jackson's Arm poetry pamphlet; the green label on the front cover is cut from 90gsm banana paper from Costa Rica; the pages are brilliant white 85gsm wove; both sets of paper purchased some time ago in a remainder shop. Everything has been printed on an HP LaserJet 4L and hand-stitched with two wires.

Metafictions include: Fabulous Fragments, Cycling For Taoists, From The Fragments Of Anaglyptos The Greek, What Phil Silvers Heard, Chips With Hitler, and Honours And Titles Received.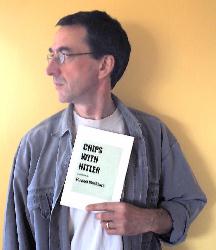 ISBN 1 874778 40 X
---