THE FOUND COIN COLLECTION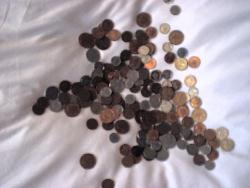 TOTAL VALUE OF COINS FOUND
ON THE STREET, IN SHOPS, ETC,
FROM 1 AUGUST 2000 TO 19 October 2002:
---
£13.68
---
Yes, there's money just lying around, ready to be picked up, if you're
not too embarrassed to do it. I justify it by calling it ART. It's got
to the stage where I don't really have to look for it, it just shouts
up at me.
Some of these are in bad shape, having lain around on the street
for a day or two or having been driven over a number of times in
the road. Strangely enough, I've found the best days for finding
stuff are wet ones - coins obviously love the rain. As for notes -
if I find them I spend them straightaway.
What will I do with this lot? Well, I won't get rich, that's for sure,
so I'll treat this as art for the moment. If Britain decides to join
Euroland, of course, I'll have to make a decision. That'll probably
mean buying beer.
I keep the coins in an old Body Shop shaving cream jar, so they smell
quite fragrant and clean.
If you're really interested in the make-up of the collection, here's
a breakdown by value:
£4.00 in £1 coins
£1.50 in 50p pieces
£3.80 in 20p pieces
£0.40 in 10p pieces
£2.45 in 5p pieces
£0.50 in 2p pieces
£1.03 in 1p pieces
And if that doesn't add up to the amount at the top, tough; I'll count
them again when I've found some more.
Email me: fabulous@emailaccount.com