THE LAST OF HARRY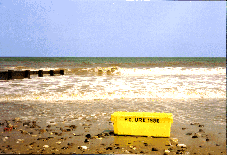 Michael Blackburn
---
For a period of 16 days in the autumn of 1995 I was a Writer
in Residence on the Internet courtesy of The Arts Council of England,
Channel and Yorkshire Arts Association, based at Artimedia in Batley.
During this 16-day residency, as well as learning HTML, I devised, wrote
and produced The Last Of Harry. It remains unfinished and constitutes an abandoned work.
The version of The Last Of Harry reproduced and preserved here is the only one now in
existence online. A couple of irrelevant or out-of-date pages have been removed.
---
Thanks go to the people at Artimedia - Brian, Lucy, and especially Charin.
Check out Alan McDonald who was also a Writer in Residence at the same time.
---
'The Last of Harry is a sort of combo poem, prose piece, biography
and bulletin board. It makes good use of hypertext - keywords in poems
about Harry link to events in his life.' - Robert Nurden in Wired, 2:04 1996.
---
Return to Art Zero