Michael Blackburn's ART ZERO
---
MICHAEL BLACKBURN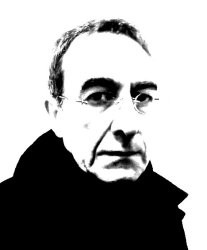 MICHAEL BLACKBURN BA MA FRSA. Poet and artist in print and electronic media. Lincolnshire, UK.
Publications include: The Constitution of Things; Why Should Anyone Be Here And Singing?; Backwards Into Bedlam; The Lean Man Shaving; The Prophecy of Christos; The Stone Ship; The Ascending Boy; Organising Literary Events; Big on the Hawkesbury; The Revolution Was Not What It Seemed (Kindle); Pocket Venus; Spyglass over the Lagoon.
Performance Art (as founder-member of The Angstrom Unit and solo) & Exhibitions of Collage 1970s: Impromptu Demosthenes, Abstract Depressionism, Last Night in Vienna, The Decline & Fall of the British Empire, The Anatomy Lesson; The Breadline Gallery, Rodley; The White Elephant Gallery, Leeds; Leeds Polytechnic; Creative Arts North Festival, Leeds. Exhibitions & performances, etc at Harding House (Lincoln) and MAC (Midlands Arts Centre).
Articles, reviews and poems in various places including the Guardian, the Independent, London Magazine, Noorus (Estonia), La Carta De Oliver (Argentina), The Echo Room, Iron, The North, Stand Magazine, Stone Soup, Maxy's Journal (USA), Great Works (online), Exultations And Difficulties (online), Sein Und Werden; interviews and poems broadcast on Poetry Now (Radio 4), BBC Radio Newcastle, BBC Radio Lincolnshire, Slovak Radio and Radio Wildfire.
Readings and appearances at MAC (Midlands Arts Centre), The Morden Tower (Newcastle), Brighton Festival, York City Art Gallery, The Bretton Hall Literature Festival, Apples & Snakes (London), Troubador Poets (London), The London Musicians' Collective, Essex University, Derby Literature Festival, Levoca Poetry Festival (Slovakia), LSE Literary Festival, etc.
Full-time Editor, Stand Magazine, 1982-86; Co-organiser, Morden Tower Readings(Newcastle), 1985-86.
Founder/Editor, Jackson's Arm poetry press (1985) and Harry's Hand magazine (1987-1990).
Founder, editor and publisher of Sunk Island Publishing (est. 1988), issuing Sunk Island Review (1988 - 1997), a sporadic paperback of new fiction, poetry, reviews, articles, translations and graphics and featuring writers such as Jonathan Coe, Vaclav Havel, Ken Smith, Carol Rumens, Martin Stannard, Colin Wilson, etc, etc.
Included in various anthologies, eg Forward Book Of Poetry 1993 (Forward Publishing), Poems of the Decade (Forward Publishing), Dear Next Prime Minister (Bloodaxe), The Long Pale Corridor (Bloodaxe), High on the Walls (Bloodaxe), Klaonica: Poems for Bosnia (Bloodaxe), Settling The Score (Five Leaves Press), Being Alive (Bloodaxe).
Projects commissioned for the web include The Last of Harry (as Writer In Residence On The Internet, c/o Arts Council/Channel, 1995); Return to Eskeleth (for The Poetry Society of Great Britain) and Mike Fabulous And His Famous Friends (for Short Stories - Lincolnshire County Council); The Apples Of Love And Chaos (24-8 East Midlands Writers Tour 2003); Portrait Of The Artist As A Cyborg (Arts Council 2004) - included on this site. Portrait Of The Artist As A Cyborg received its first full public performance at the University of Lincoln as part of the Lincoln Book Festival, 2007.
Other assorted stuff: organiser of The Smallest Arts Festival In The World, held at our previous house in Lincoln, featuring 20 artists and writers from all over the UK: a tape of the proceedings still available. Founding member of NALD (National Association for Literature Development). Director/Co-ordinator of various events in Lincolnshire, including the first Lincoln Literature Festival (1992); Celtic Visions; Writing Lives - A Festival of Biography, etc. Men (aka Saturday Night at The Crown Posada) - text for a limited edition artist's book by Les Bicknell, commissioned by Essex University.
Delivered workshops, tutorials & lectures in various establishments, including De Montfort University, Lincoln University, Boston College, Lincoln School of Art, Leeds Trinity & All Saints College, etc.
Elected Fellow of The Royal Society of Arts, 1998.
Royal Literary Fund Fellow & Director of The Writing Centre, University of Lincoln, 2005-2008.
Lecturer, University of Lincoln.
---