Michael Blackburn's
ART ZERO
---
AN AUSTRALIAN TRIPTYCH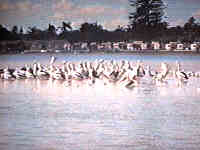 Pool | Pelicans At The Entrance | Moon
---
An Australian Triptych is made from film originally shot on videotape
in NSW, Australia in 2001.
This was then recorded on camcorder from the tv screen in 2006.
The film was edited down to its current time of just under three minutes
and a soundtrack added.
Each part of the triptych was a hand-held static shot.
Triptych can viewed online at YouTube.
---